Kyushu's one and only wildflower garden
Nonohana no Sato is located in the foothills of the Kuju Mountains at an elevation of 830 meters. You can see approximately 500 species of rare wildflowers and plants in the garden throughout the year.
Admission into the garden is free.
It costs nothing to enter so you can enjoy strolling around the garden to your heart's content. (required time: 15–60 min)
We can make adjustments to the meals served in our restaurant by request for visitors from overseas.
We are happy to accommodate both tour groups and individual travelers. We can also take requests regarding meals and make adjustments to items on the menu.
(Example) We arranged Dango Jiru with Japanese miso and Korean style together with pepper sauce, sugar beet sauce etc.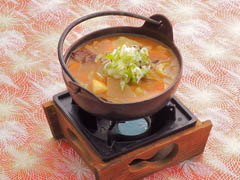 The perfect hub for sightseeing in the Aso and Kuju areas!
Kuju Nonohana no Sato is situated right in between the Kokonoe Yume Suspension Bridge and Chojabaru in Aso-Kuju National Park, and is only a 5-minute drive from the Kokonoe Yume Suspension Bridge. This makes Nonohana no Sato the perfect hub for sightseeing in the Aso and Kuju areas.
Convenient guided tours available for groups
We offer free guided tours of the wildflower garden for groups (reservation required) to help you get an up-close and personal look at the garden. With the help of our guides, you will be able to learn about the special characteristics of each wildflower, how they got their names, and other interesting knowledge.